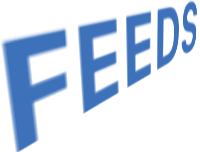 Frequently asked questions:
How to add feeds: You can always enter a website's address, or the link to its feed, in the "add feeds" menu. From any website or app, you can also use the "Share" menu, and send links directly to Feeds: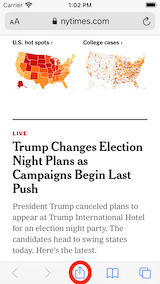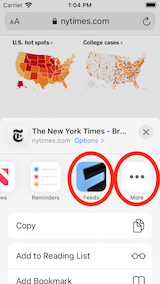 If Feeds' icon isn't visible, tap "More" (three dots), to toggle it first.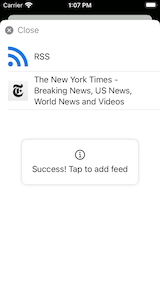 How to connect subscription: Login to a website where you have a subscription to get behind the paywall or gain additional content.
Open an article and tap it to load the source
Leave reader-mode if its activated (tap the highlighted "aA" in the menu)
Navigate to a login-page (usually right there at the top)
The next time Feeds update, it will fetch the premium content
How to delete a feed: Tap the plus button in the menu - here you can find most actions.
Support
Know that all emails are read but sadly there is little time to write each person back. If you don't get a response - you will need to trust that we work as hard as we can to fix your issue, and will update the app as soon as possible. To make it possible to fix your issue, follow these steps:
Read this help to see if the problem has not been reported before.
Write step by step instructions of how to reproduce the issue, or make a screen recording.
Is the letter nice enough to show to your mother?
Can a sleep-deprived and/or drunk developer follow those instructions to reproduce the issue?
Send it to support@feeds-app.com
We are very thankful for all feedback and bugreports! Know that you are helping us twice as much as we are helping you.
Purchases and Subscriptions
Unlock the app by either buying a one-time unlock or a subscription. You will be granted a host of features and ensuring the continued development. All users will be given bug fixes and UI-improvements for free. The one-time unlock unlocks all existing functionality and grants upgrades at a reduced price. Subscriptions gives you everything, but only during the time they are active.
These features are given to supporters:
Mute - hide posts containing phrases you don't care for
Unlimited SiteFeeds - Turns web page into a feed with items, 3 sources are included for free
Full article download - Similar to SiteFeeds but for RSS/ATOM, it fetches full articles and generates feed items from the data
No ads - removes all ads.
Site Feeds
Site feeds are auto-generated (AI) feeds, taken directly from the site. Each article gets a summary, and the original is just a tap away! It means that you can follow every website who has a feed-like structure even if they don't support regular feeds. Especially useful for your news and magazine subscriptions, where you quickly get updates about your most important news. Just login first and the app will store the cookies needed to authenticate with the website.
Take note: since these feeds are generated by an artificial intelligence, that actually don't know how to read - the result can be quite strange at times. It makes, on occasion, the following errors:
Treats links to non-articles, as if they were articles - e.g. advertising, help-pages or other information.
Misses publish-dates, and tells you that old articles are published today.
Misses e.g. name of author and such information usually found in the end of an article (but just tap it to read the full original article)
AI - automatic categories
Download full article from RSS
Smaller features
Auto-purge: The app detects news feeds and automatically deletes articles older than today, so your reading list will never grow too large. Articles from non-news will be untouched. You can toggle this feature in settings > View all subscriptions (and then tapping a feed).

Mute: You can mute phrases you don't like, then a post containing that phrase will be shrunk to minimal size. One tap brings it back to normal. You may mute using plain text or "regular expressions" for all you coders out there.

Share text: You can share just the text of an article, just select share from the menu or swipe, and on the second row - scroll until "Copy text".

Sorting: Don't forget that you can sort articles any way you like. Tap the cog to access settings.
Shortcuts to settings. If you are reading a post and selecting "Feed Settings" in the menu, that feed is selected automatically. The same applies to delete.
Who made this?
I did! My name is Olof Thorén, and you can read more about me and the company here: https://aggressive.se/. There is even a very personal corporate blog!